Welcome to our monthly Tech Talk series where we discuss the challenges of working in the automotive electronics business.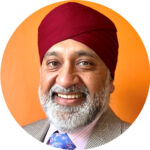 Streamed live each month, our Tech Talks are open to both AESIN members and guests, hosted by AESIN Network Director, Gunny Dhadyalla.
For AESIN members that may miss any of these live events, don't worry – you'll have exclusive access the recordings at a later date and we'll keep you notified when they are available.
If you are not a member, and these abbreviated videos make you want to find out more, please CLICK HERE to find out more about joining.
May 2023
Dr Ying Lia Li (Lia Li), CEO of Zero Point Motion