AESIN Tech Talk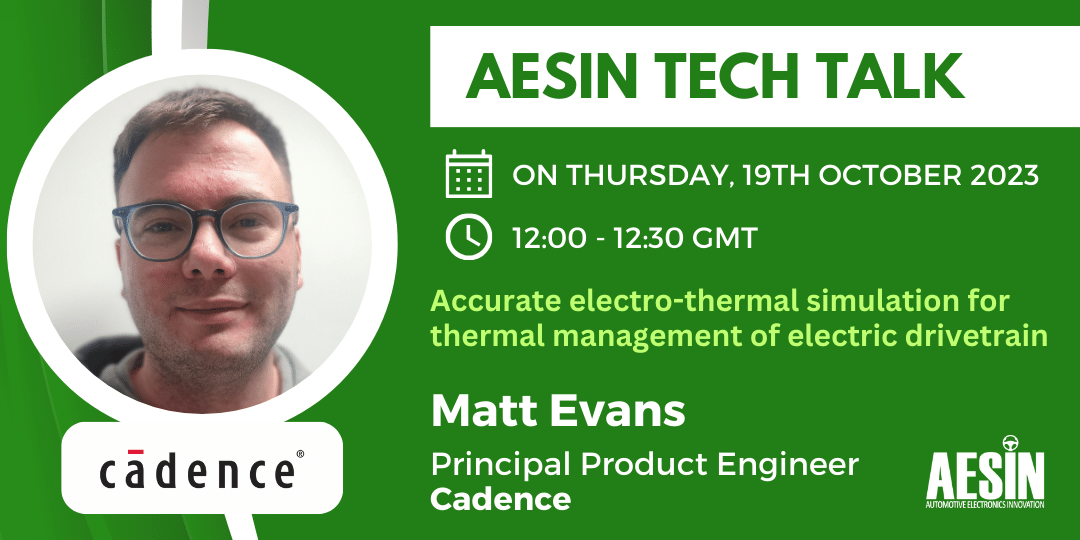 Streamed each month throughout the year, our webinars are open to both AESIN members and guests. With AESIN's Gunny Dhadyalla hosting, we provide attendees the chance to listen, learn and ask questions.
This month's guest speaker is Matt Evans, Product Marketing Manager, Cadence who's talk is on 'Accurate electro-thermal simulation for thermal management of electric drivetrain'
Matt graduated from the University of Surrey with a Masters Degree in Aerospace Engineering in 2015. Matt worked as a Product Engineer for Future Facilities, prior to its acquisition by Cadence, specialising in thermal simulation of electronics cooling. In 2020, Matt won "Rising Start of the Year" at the Elektra Awards recognising his contribution to defining the market for intelligent thermal simulation in electronics and to global research that is helping to develop the sector.
---
If you are a member and would like to put yourself forward as a speaker please Contact Us
If you are not a member and interested in joining please click here to find out more about the benefits of joining AESIN.